Diver's close call inspires donation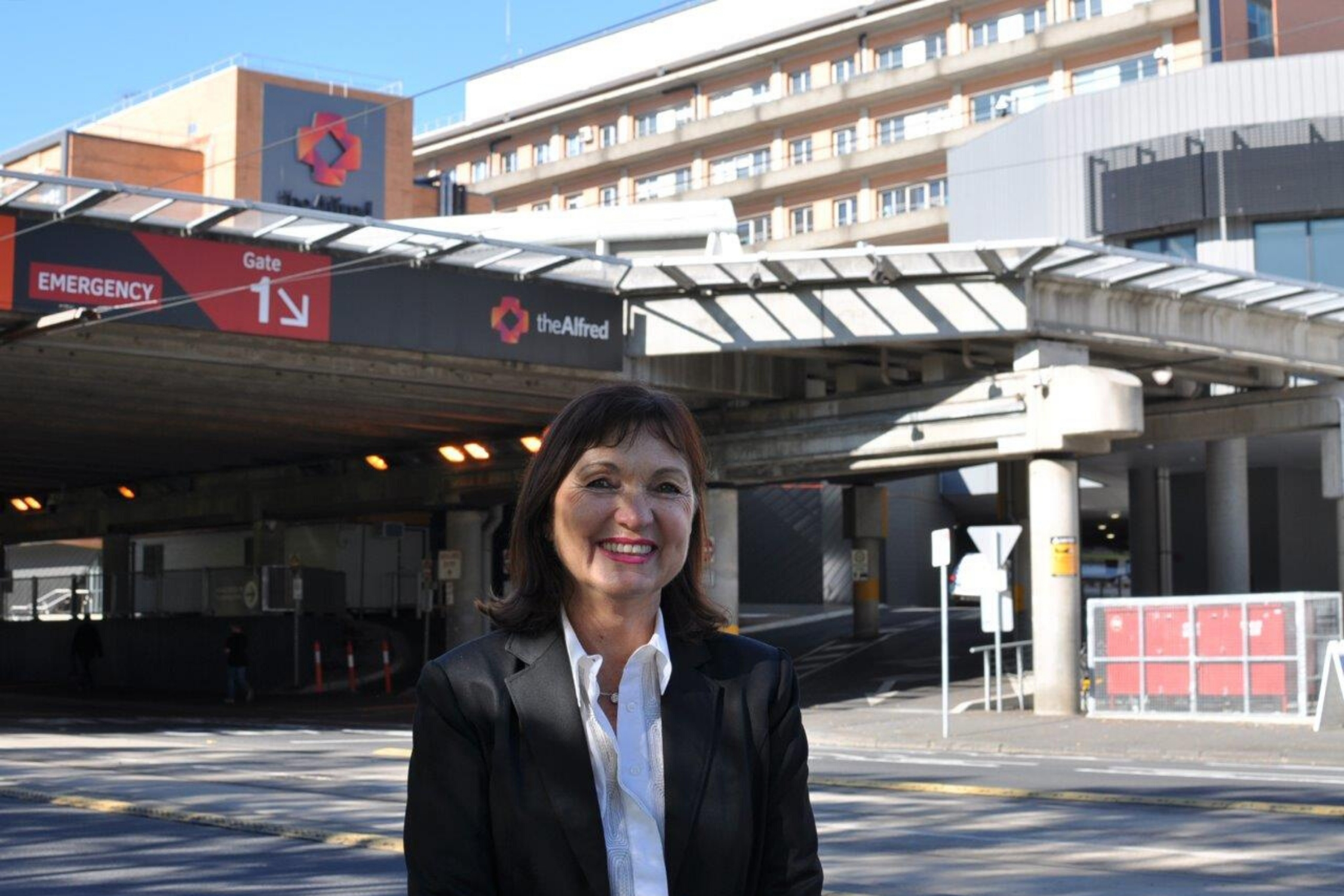 Around ten years ago on a brisk Sunday morning, Anita Castan was looking forward to an advanced diving course off Melbourne's Bass Strait. Just a few hours later she would find herself being airlifted to The Alfred hospital.
The dive that day started off like any other. The descent to 30 metres went smoothly, however when Anita began to ascend, things started to go very wrong. Usually a diver would ascend from a 30 metre dive on an angle, but on this occasion the group was on a challenging, cold, vertical swim.
Following protocol for a 30 metre dive, Anita paused for a five-minute safety stop on her ascent in case she had air bubbles in her blood stream. Seven metres from the surface Anita started to feel a strange sensation in her lungs which she describes like her lungs and chest 'filling'. By the time Anita made it to the surface and was swimming back to the boat, she was coughing up blood and fluid.
Once on the boat she was placed on oxygen and taken back to shore where a road ambulance was waiting. Anita's experience as a diver told her she was not suffering from 'the bends' or other common dive risks. With no known reason for her decline, and with timing critical, a helicopter was called in to airlift Anita to The Alfred.
"I distinctly remember the air ambulance flying very fast and low, extremely close to the surface of the water. I had my oxygen mask on and thought to myself it was like being in a James Bond movie," says Anita.
Luck was definitely on Anita's side that day with one of the air paramedics a Canadian mountain climber. He immediately recognised Anita's symptoms were unusual and was able to ask questions about 'Boyle's Law' of pressure differentials, having had similar experiences as a mountaineer. Boyle's Law describes how the volume of a gas varies with the surrounding pressure and in diving relates to the role of water pressure in a dive environment.
Due to the depth of Anita's dive, there was good reason the air ambulance could not fly at normal altitude and was only able to fly at 20 to 30 metres above the bay all the way across Melbourne. If it wasn't for the paramedic recognising the danger signs, the effects of the atmospheric change could have been catastrophic for Anita.
Anita arrived at The Alfred where a team of medical staff met her on the helipad, ready to take her into the Emergency and Trauma Centre. Again, she was incredibly fortunate that on that day, the Head of Dive Medicine at The Alfred, Dr Ian Millar was on duty and was accompanied by a number of other Alfred doctors with diving experience.
Ian and the team's ability to ask the right questions, along with Anita's diving experience, meant they were able to quickly work through the possibilities to determine her diagnosis.
Anita knew she had not stayed down too long, or ascended too quickly, ruling out the bends or an air embolism.
Within ten minutes, Ian had diagnosed Anita with cold water-induced pulmonary edema. Caused by the combination of cold water and changing pressures, the result is fluids from the blood leaking abnormally from small capillaries in the lung and into the airspaces.
Anita recalls Dr Miller telling her how incredibly lucky she was, that had she dived any deeper she would have drowned, the fluid in her body would have flowed into her lungs, internally drowning her.
Anita reflects, "If they had to ambulance me back all the way by road, I may not have survived. And the fact that all the dive staff were on duty that day, particularly the Head of Dive Medicine who diagnosed it so perfectly, in a medical sense it was fantastic."
Anita lives locally to The Alfred and having witnessed many helicopters landing on the iconic helipad over the years appreciates how unique and important it is.
"I've no doubt having the helipad there, in such close proximity to the hospital, has helped to save countless lives, including mine. It's wonderful to know it's there, ready for us if needed."
To this day Anita continues to dive, describing herself as a very fit and active person.
"If you know what you're doing, it's all about understanding the risks and being sensible. Unfortunately, what happened to me was a combination of a vertical ascent, the water being exceptionally cold and the suits not having hoods - your head being one of the places you lose the most heat."
Like many Victorians, Anita feels a great connection to The Alfred. As well as being a patient herself, her husband had a major cancer operation at The Alfred, extending his time left to spend with her and their family. And her daughter was also treated in the Emergency and Trauma Department following a serious road bike accident, fortunately making a full recovery.
"The Alfred is a fabulous hospital with amazing people – I feel incredibly lucky to have been diagnosed by the Head of Dive Medicine within 15 minutes. I'm not sure a doctor who wasn't a diver would have been able to diagnose me in the right way. The process from when we landed on the helipad at The Alfred was seamless."
Anita's recent donation to The Alfred's COVID-19 appeal was a way for Anita to show her thanks to the hospital and staff that saved her life.
"I just wanted to say how thankful I've always been for The Alfred. And also, it's just the most diabolical situation – especially for the staff who put their lives on the line every day."
The Alfred's helipad provides a lifesaving service, for all Victorians. You can make a contribution today and help ensure we are able to bring the standard of technology on the helipad in-line with best practice, ensuring it provides the best possible service.